It's Sunday, I'm having a lie-in, and am fully prepared not to get out of my warm, cosy bed until gone nine when I realise IT'S SNOWING. AND SETTLING. AND IT'S DECEMBER. Where is my camera??!
By the time I'd got my kit out, wrapped up warm and was ready to go the snow fall had started to slow, so I only got a few with falling snow out in my garden.
Last time I went out shooting in the snow would've been January this year, when I captured one of my favourite photographs, Snowy Trees. Then, I was still on the D3200 with the kit lens 18-55mm f/3.5-5.6, but this time I was going out with my D7200 and — more importantly — 35mm f/1.8, those extra couple of stops of light meaning I'd be able to capture snowy scenes at faster shutter speeds and so see the little snowflakes in the air. 
However, one thing I didn't account for was the fact that Snowy Trees was taken after a day of intense preperation — I knew it was going to snow that evening and so had spent the whole day, in school, dreaming up compositions. I had my kit laid out ready as soon as I got home, and so really then it was a case of filling time until the flakes began to fall. 
This morning, though, I wasn't expecting snow (I'd been assured by all of my weather apps that it was not going to snow in the south-east of England this December) so everything was a little more rushed. 
I always start in my garden when I'm trying to shoot something like this — I'm a big advocate for the idea that you don't have to go far to get good shots, and so I always like to pop just out of the back door to get my first pictures of the day. Above is a picture I took of some trees that arch over the garden, the same ones in the frame of Snowy Trees. This picture's a bit more absteact that that, but I'm drawn to it. This isn't actually a black-and-white conversion; I've simply darkened the shadows and dark areas to create this rather confusing yet, I think, appealing image.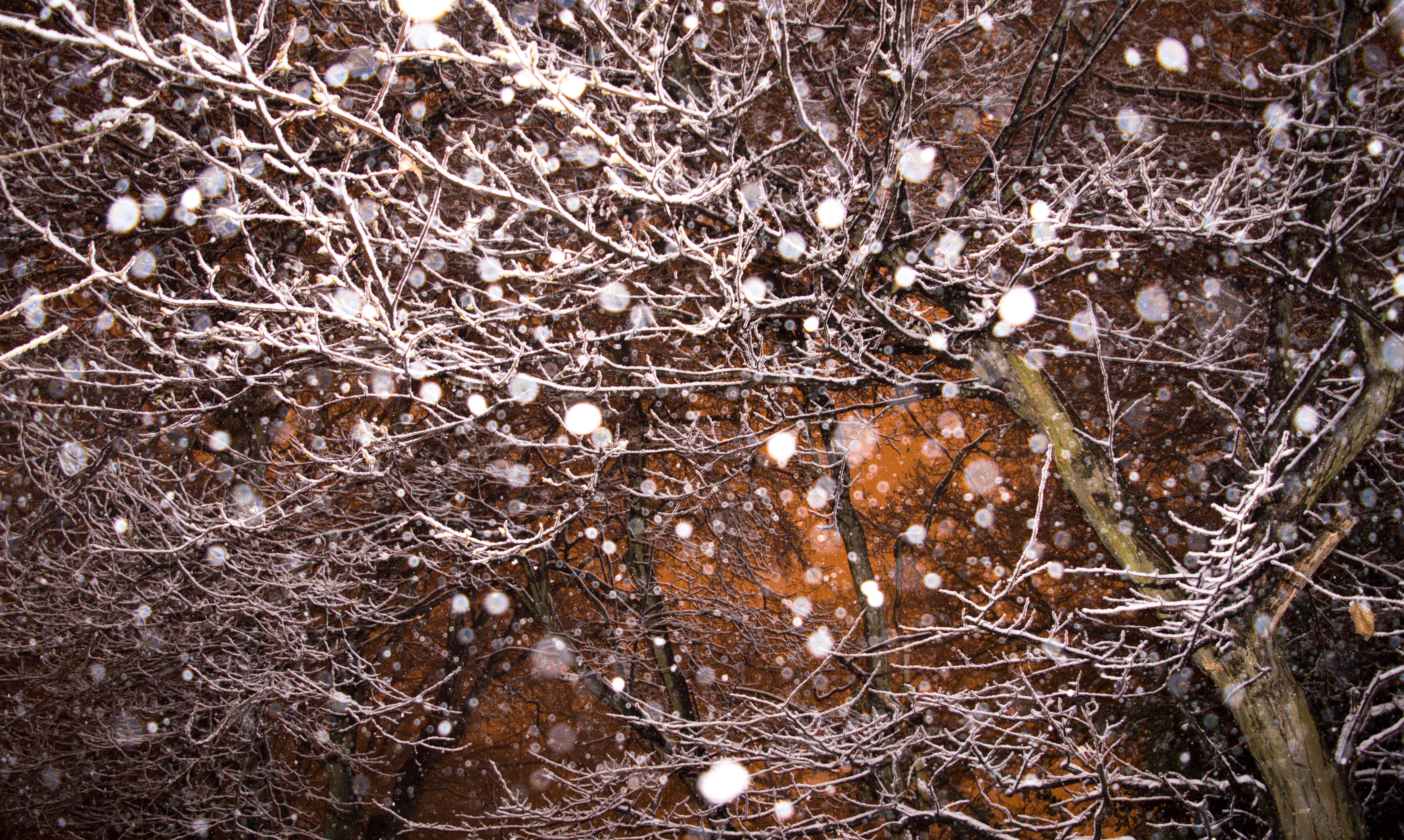 I snap in the garden for about ten minutes, trying to get as many pictures as I can before the snowfall inevitably stops. It does, so I head back inside to put on a thicker coat, grab my tripodand head out to grab some pictures of settled snowin the local area. I have a target: a small woodland five minutes from where I live, with lots of snow-capped trees to stare at.
I'd like to clarify here that I was shooting with my camera in one hand and my umberella in the other, and so had to be quite pro-ficient with my right hand to shoot, adjust settings etc. One problem — I'm left handed, and I can't just hold my camera in my left and umberella oin the right because of the way the grip is orientated. Luckily I only had my light 35mm on the front of the D7200, which I can hold in one hand for long periods of time easily, but, as mentioned, gripping the D-SLR was a slight issue. 
When I wasn't shooting, the camera was tucked away inside my large waterproof coat as though my D7200 is weather-proofed, I'm not so sure about my 35mm lens. 
Anyway, as I wandered along, I tried to take a few snaps of snow-covered objects that I thought were interesting. For the above image, I'd have loved to have my 60mm f/2.8 Macro lens to get really close in on the dew drops in a beautiful, sharp shot that I know the 60mm produces, but I didn't want to be swapping lenses in the snow with lots of water around for I think obvious reasons. Thus, I decided on the 35mm as I know it can take some half-decent macro shots as well as being a general-purpose landscape lens. 
I'm going to admit, as I walked up to the woods, I was a little bit naughty and went out into the roads to get some pictures of the snow-capped streets. I took these portrait, 'up-the-alley' shots in rhe centre of the road , trying to get as good symmetry as I could. 
I get to the woods, and take some preliminary shots, again having to be careful with umberella and camera — more so as the water dripping from the trees here is much faster and harder than out on the roads. In some ways I like this first photo because it has a splash of red in the centre, which I always love to include in my photos. However, said splash of red is also a bin, that somewhat takes away from the atmosphere of the image.
I kept on going into the forest, and I diverted off the main pathway because there the snow has all been slushed-up by dog-walkers earlier in the day. I discovered a small clearing that I think I've seen before but under the snow I couldn't tell. I was alone in their for a little while, and so I snapped a few pictures.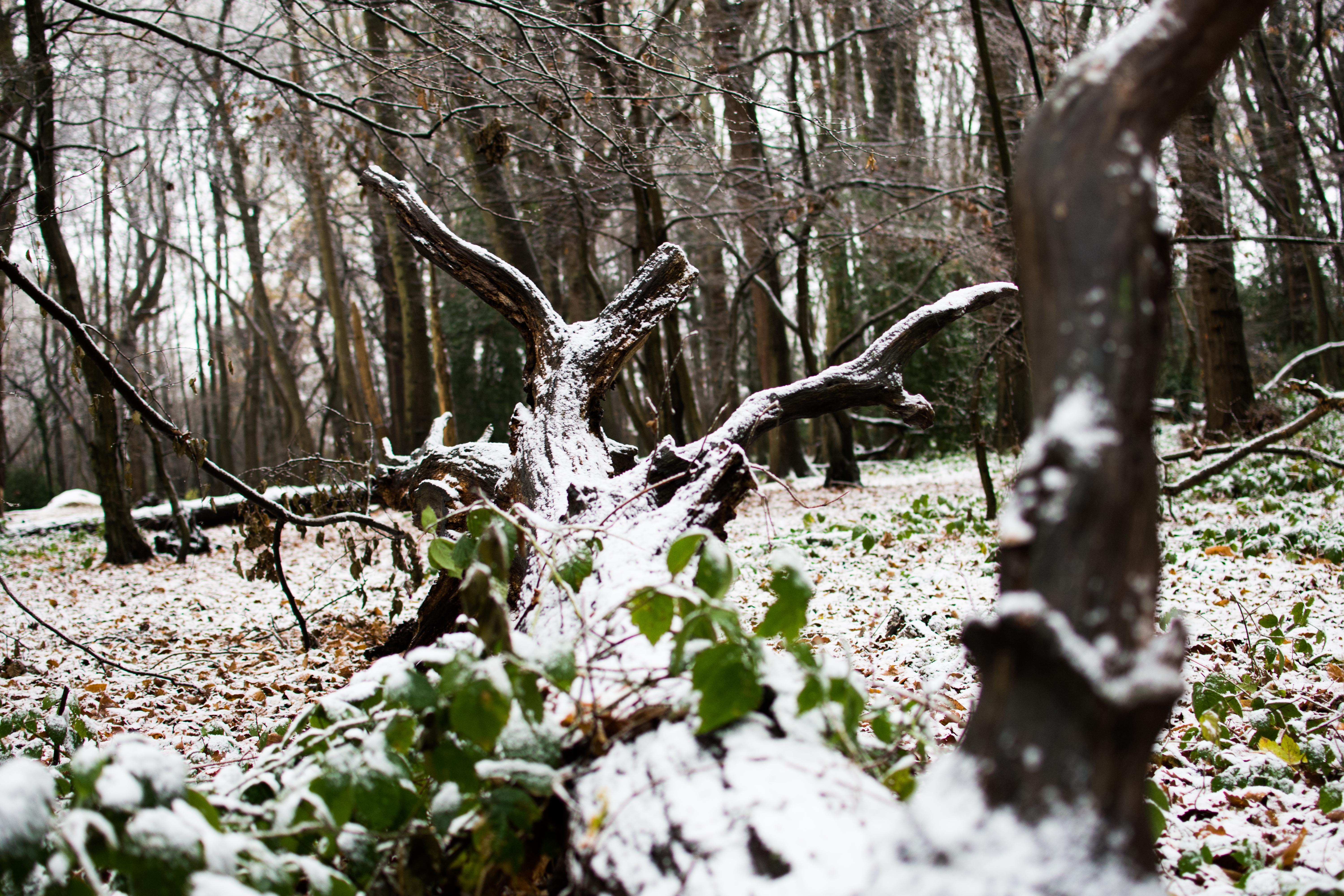 I took that last monochrome because as I was shooting, an idea came into my head for a composition: a wide landscape of the trees, with a solemn figure in the centre for scale, shot in dramatic black-and-white. There were small mounds throughout the clearing, so I stood upon one of them to fit more of the trees in and so emphasise the scale when someone wandered through. i didn't have to wait long: a dog walker came through the clearing, so I snapped two quick pictures of him and his dog. I think these are my best efforts from the day.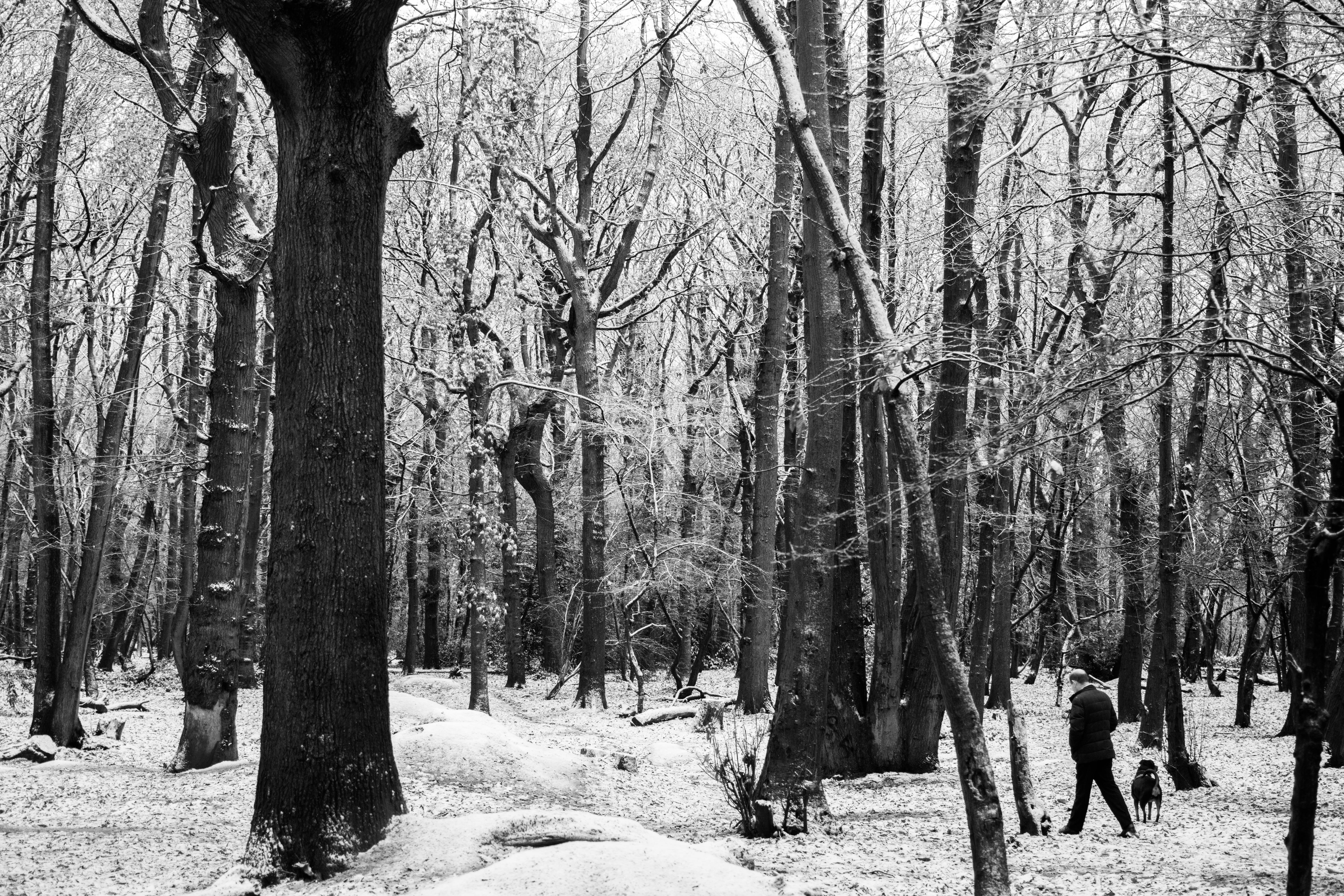 I've always been one for a slightly melo-dramatic photo, and these two fit the bill, especially that last one, where I deepened the blacks more to emphasise the contrast.
Final Words
Shooting in the snow is different, definitely, and opens a lot of creative pathways for some awe-inspiring shots. One thing to consider always, however, is protection of camera kit. I'd advise putting your lens on indoors and then sticking with it as changing lens in the snow is a no-no. Even though I kept my camera under my jacket, I still got some moisture on the front and rear element of the lens and so they fogged up when I took it indoors. If this happens to you, don't worry — just leave the lens with the caps off on a side somewhere where the moisture can evaporate. After about ten minutes, it was good to go.
More importantly, however, is protect yourself from the cold! The worst thing for me was my hands — when I got back after around an hour out, I could not feel my hands at all. I'd worn gloves, but they had been relatively thin cotton ones, so that I could operate the camera. I'm yet to find a suitable balance between the warmth and protection of skiing gloves and the ease of handling with thinner cotton gloves. Also, wear a waterproof coat and suitable layers beneath.
Happy snow snapping!
— Jack Paton